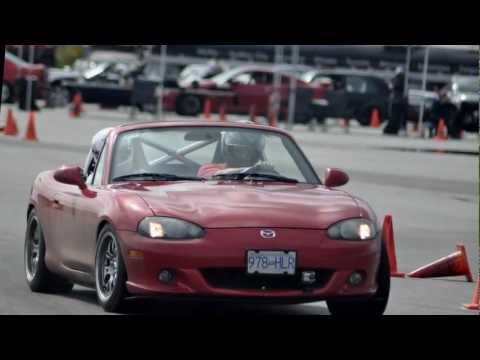 Wow, who would've guessed May long weekend would have ended up as wet as it did? Those who decided to forego the shopping exodus to the US were rewarded with a 54 entrant NCT #3 and 8 runs in conditions changing more rapidly than a F1 race in Malaysia's rain season! We also missed some veteran racers who were enjoying the sun in Kelowna and racing to the sky at our very own local hillclimb at Knox Mountain!
The day welcomed racers with a big splash of rain soaking the pad and bringing forth the signature "Swimming Pool" corner of BCDC. Course Designer Dean Chen was experienced enough to have designed around it yet was thwarted when his showcase sweeper exited right into "Mini Swimming Pool"!
Racers know very well, wet or not, fast is fast and we were off!
To make it sweet and short, the day was eventful.
Only two run groups and Heat 1 ran in the totally soaking wet. spins were almost part of the course as everybody clamored for grip. times were not hot and the spectacular splashes from Mini Swimming Pool gave onlookers some excitement. The tight turns at both ends of the pads contrasted starkly to the smooth arcing sweepers that VCMCers are used to and the wet only made things more interesting as everyone tried to find the fast line and grip to get in and out the quickest. Heat 1 suffered a delay due to some overzealous autocrosser turned farmer *rolls eyes*
As Heat 2 took their turn, the times started to drop. By about half way through the second heat, average times were 5 seconds faster than the Heat 1 and a dry line was showing itself yet the Swimming Pools did not fade leaving some interesting grip changes throughout the course. We would ultimately see one more off and one very public and spectacular shower as last year's NCT Champion, Shar Abbasi, tried to show the new Novices how it's done and avoided the field in his STS Miata to slide through the Swimming Pool resulting in an unexpected interior cleaning and 10s across the board for style!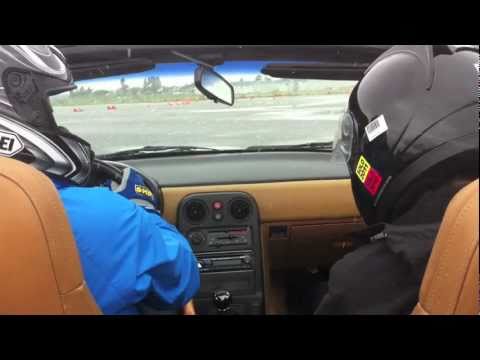 After a quick lunch break due to the 2 heat grouping, the track was 90% dry and times were nowhere near those of the morning. The start area was still wet and a big cool down box at the end of the stopbox kept tires from remaining too much heat but times dropped nonetheless.
Feedback & Results
Thread
| Photos & Videos
Thread
Now to the business of NCT #3, the Novices. It seems a large number of novices have not heeded my write-ups and tweets and there were only 11 novices running. As of NCT #2, the top 5 novices were: Kalson Chan, Justin Laureta, Edmond Chan, Marcus Lu and William Leung.
Cut to the chase and top 5 finishers of NCT #3: Nigel Koit, Justin Laureta, Marcus Lu, Kalson Chan and Jasvinder Singh Johal
Wow, if these names look familiar to you, they should. These guys are not only fast, they are consistent (sounds like somebody was paying attention at Velocity). Latecomer Nigel is blazing fast in his S2000 maxing out the points in his first two outings, the standings currently don't reflect his accomplishment due to missing NCT #1 but novices should watch out. My ever foreboding warning still echoes over the BCDC pad… NCT is best 4 of 5 events, do NOT miss out on valuable points! It appears that 14 of you can still take top honours!
For those who attended all the events thus far the run down is as follows:
1. Kalson Chan - 294.318
2. Justin Laureta - 292.067
3. Edmond Cahn - 284.004
4. Marcus Lu - 283.478
5. Wilson Heung - 277.792
The only remaining drivers over 200 points are:
6. Cameron Yee-Chan - 272.571
7. Nigel Koit - 200.000
Jasvinder in the class-dominating 135i is not far behind with 195.xxx which shows a 100 and 95 point finish so is a strong contender though results might not show it due to his 2/3 event showing thus far!
Those who are further down, don't despair! anything can happen with two events remaining, as long as you've only missed one event, you are still in the running! Plan ahead and don't miss anymore events!!! You can't win if you don't start!!!
Cheers!
Zach