I think there is no better comparison of US Nationals than it is a roller coaster. The rickety wooden coaster at Playland. It's been there for ages, you've ridden it before, yet... you go back every year to get more.
The first batch of VCMCers has been put through the wringer and a few more are set to take to the Lincoln Airpark concrete Thursday and Friday.
After fighting bogging issues for weeks now on the Vancouver Special,
Joe Cheng
and
Gary Milligan
felt the issue had been finally nailed down as the rig pulled out of Vancouver on the road to US Nationals. Joe,
Carol Wong
and
Arthur Chan
would cruise down while Gary would fly in with a brand new clutch that would solve all their problems.
First little dip on the coaster would be Art receiving news that his co-drive at Nationals had run into some misfortune and would not be available
The first of the roller coaster dives would result from the test runs post clutch install, bogging issues still haunting the VS. Would this be a repeat of 2010?
After further investigation a new ECU was ordered in dramatic fasion, installed JUST in time for the first official A-Mod runs.
Gary obliterates the field after three runs leading by over 2 secs, followed by Joe who caused many hearts to stop as the Vancouver Special needed help getting off-course after this third run. Thankfully, a broken throttle cable was to blame which was remedied in time for Carol to have her go at it in A-Mod Ladies.
The West course would prove much smoother and unofficially,
Gary Milligan takes 1st place
in A-Mod with
Joe Cheng trophying in 4th place
! Congrats to both! [edit: it would seem Day 2 wasn't as smooth as i initially believed -
VS Day 2 woes
]
Carol Wong takes 1st place
in A-Mod Ladies!
Don Nimi of PDM Racing
has had more issues with his tow vehicle this year than his race car and the tow to Lincoln proved no different as he had to be wary of a head gasket issue on the tow into Lincoln. He did pick up Bryan Heitkotter as a co-driver along the way.
Bryan would take the 4th trophy in the class while Don manage 10th. Lingering effects from the stressful tow?
one of Bryan's run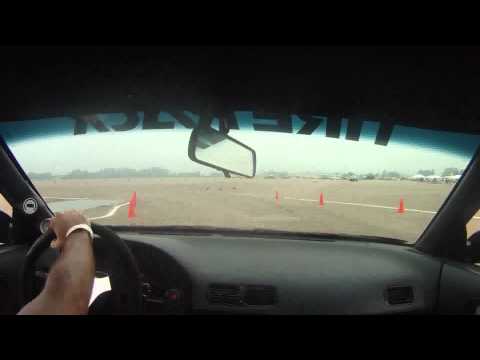 Other notables:
Ambrose Fung
, 2011 BC Champs Winner and 2011 Kumho Tires Shootout winner just missed out on trophies in ASP with a 6th place finish.
Ryan Clark
, fellow Albertan right behind in 7th place.
Here's wishing the remaining VCMCers a smooth and exciting drive on Thurs & Friday! Go get 'em boys & girls!
[Yarko has experienced drama in the second group, arriving to discover his B-Mod ride can rev to 13,000 rpms except it has a broken half-shaft, he has since moved to AS]
Groups to look out for:
AS - Yarko
BS - Richard A, Mitch Burton, Arthur Chan, Owen Kirby
BSL - Avril Morrison, Michelle Burton
STS - Richard Basford, Andre Millette
Photos by Arthur Chan