Since I'm an old hat at this, I didn't realize that First Time Registrations can be a bit confusing to people who know absolutely nothing of the sport and haven't dug through the reams of rules, class specifications, etc. Also, some people are just more knowledgable about cars and racing because it's their passion, but you might be doing AutoX just for the enjoyment of getting better at driving and learning. So don't feel bad that you don't have all the answers.
So, maybe I can do a quick rundown of Registration for the absolute n00b.
When you're registering for the very very first time, you're going to have a lot of questions that you may not be able to guess what the answer is. And if you're 4 hours from the deadline, you may not be able to get them answered.
So let's take a look at the registration form:
https://s3.amazonaws.com/uploads.hip..._annotated.png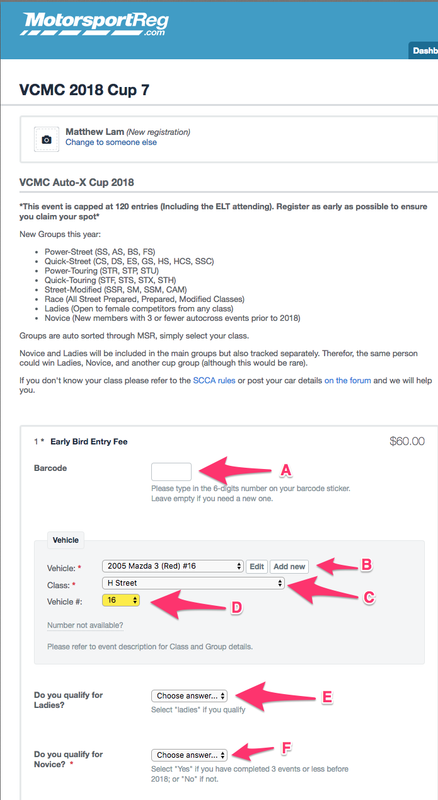 (A)
Leave the barcode empty.
You haven't attended an event, so you don't have a barcode. Someone at registration will have one printed for you when you get to the event and sign in.
(B)
Make a new car that mostly describes yours. Don't worry if you're wrong about something (e.g. didn't get the correct full model name or don't remember the year).
You can ask someone at the event who seems knowledgable about cars and AutoX to get that answered for next time.
(C)
Make an attempt at guessing your Car Class.
Car classing is a bit tricky as there are a lot of rules. On the day of the event, when you sign in, tell them you don't really know what class your car should be in and you've guessed. Someone will ask you some questions and hopefully put you into the right class.
We follow SCCA classing rules see:
https://www.scca.com/pages/solo-cars-and-rules
(For 2018, see:
2018 SCCA® National Solo
®
Rules
). If you look in the rule book under Appendix A, you'll see all the Car classifications. For "non-modified" or "stock" cars, you will probably be in one of the Street Categories. For most regular (suspension, intake, exhaust) modifications, you may be in Street Touring Category. If you've done extensive modifications, then I'd say you should probably read the rule book in detail. Control+F (or CMD+F for Macs) is useful here. Just search for your car brand to "jump" the sections that has it listed (then backtrack to that "category" earlier in the rulebook to see what mods you're allowed in that class/category). Otherwise there's hundreds of pages to read and scan...
(D)
Pick any number that isn't otherwise picked by someone else.
The number doesn't actually matter unless it's a larger competition event (like Canada Nationals, for example). If the barcode isn't scanning when you line up for your run, then that car number is useful for timing and registration, so remember if you can.
(E)
Say yes if you want your results to be listed under the Ladies category.
See an example of the results under "Classes":
https://forum.vcmc.ca/forum/racing-e...sults-feedback
(F)
Novice? Say yes (most likely).
Unless, like the description says, you've done more than 3 events prior to the current year.
https://s3.amazonaws.com/uploads.hip..._annotated.png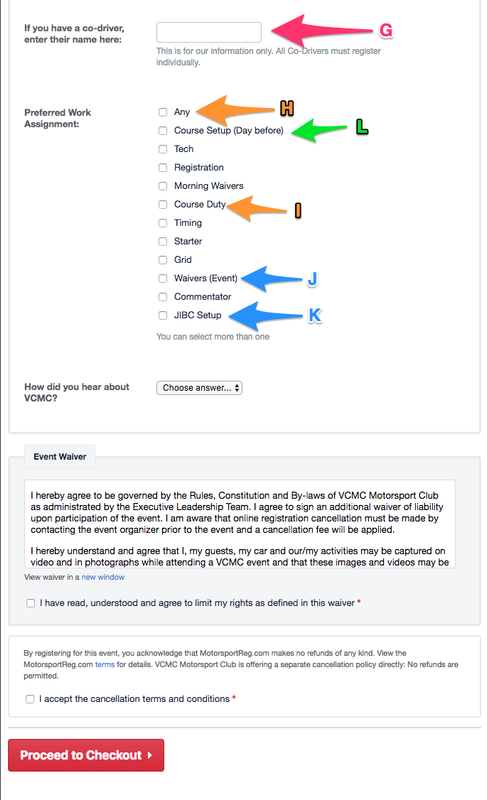 (G)
If you have someone driving your car at the same event, put down his name.
Most n00bs are first-timers who don't have co-drivers, so you probably don't care about this field. However, if that's not that case and you're bringing a friend to the event who will also drive your car, remember that both you and your friend need to put your "co-driver"'s respective names in this box during registration.
(H - L)
Work assignments! Pick "Any".
(H)
If you're completely new, most of the time they will not assign you a position that you don't at least know something about or lack the experience. (e.g. they will not put a first timer as Starter, because there is some safety responsibility that the Starter needs to deal with.)
But, if you're still unsure, here are my recommendations.
(I) Course Duty
As a first timer, getting to work on the course and seeing how people are driving the sections you're near is a huge benefit. I would recommend this. Plus the job is simple, just replace the cones that have been knocked over by other cars into the chalked box and report it.
(J) Waivers (Event)
There's another Waivers (Morning), but I wouldn't recommend it to first timers. Any "morning" duties I would not recommend. You have a lot to do and a lot to learn in the morning so you won't want to have additional work at that time. If you're interested in standing/sitting by the entrance and making sure everyone's signed the waiver and gotten a wrist-band, then sign up for the "event" version of it.
(K) JIBC Setup
This happens after the event is done. We have to put up all the cones from the course that the Justice Institute of BC had up. This is their lot after all. This is actually not a bad choice as it frees your entire day at the cost of staying late a bit to help clean up. It is still slightly less optimal than (I) though, which is why I would recommend that earlier.
(L) Course Setup (day before)
Is workable. It'll give you a preview of the course, but you'll want confirmation on the forum (see the event announcement (1st comment): https://forum.vcmc.ca/forum/racing-e...ember-1st-2018) -- so sign up on the forum to make sure you get it. Their is a downside to this though, in that we do expect that people who setup the course know what we're talking about when we say something like "setup an decreasing slalom on the left side". So if you've never done this before, there's going to be a lot of learning and struggling during course setup, so be sure you're up for it.
And... I think that should just about do it for all the domain-specific questions that are on registration. You should probably be able to figure out the rest yourself. =)
Have fun and enjoy!